Sorry for the delay on this blog post been so busy at work I got a bit behind. Here are some highlights from Kc Drifts first two day drift event at heartland park Topeka. Two days of drifting fun. Saturday was run just like one of our normal Kc Drift events that you all know and love. Open track multiple laps smooth transitions and every ones favorite big sweeper to really get up close and personal with your bros. We had a lot of new drivers this event which is great. It's fantastic seeing the sport growing and becoming more popular locally. We also had some of the heavy hitters from STL and of course of local grown drivers as well. We strive to make our events the most fun, the best bang for the buck and most laid back events you'll drive all year. So please if you have any feedback on how our events are ran PLEASE! Let us know.
I would like to thank all the Drivers, Spectators and workers for helping us put on a great event and hopefully yall stick around till it's bigger and better next year. I would like to thank Birds Eye Ariel Media for coming out with his cool rc gadgets. Fitz-tography for his continuous support as well as AutoFaze and anyone else who I may be missing that shot for us this event.
We have people from all over driving out to our events now adays. Event Regulars the Angle Junkies always come to party.

Local Drivers Dustin "Krazi" and Rolando "Let me hola atcha" doing a bit of a fun tandem.

Our Fearless leader Rob "Jesus" got out on track for a few fun runs in his s13.

As always we have a few Miatas at our events. Two big names in miata drifting in the Kc area are Galen "always prepared" and Paul "Walnuts" a.k.a yours truly.

Look at all deez miatas!

Sam "The Pringle can" Pirtle from Drift STL

Another STL Driver Chris "Grandpa"

Mike "small fish" fisher from Omaha

Drifters, friends, significant others, large pet dogs, etc. and stuff.
We need help with a few things to finish out this season with a bang! We have needs in the following areas:
- DJ / Live music willing to donate a performance or work very cheaply
We would very much like to have music for the competition at IFO. We'll help however we can in transporting, setting up, feeding, and applauding someone to play some music for us. If everything goes well, we will have the opportunity to pay artists at our events next year.
- 2-3 people interested in Judging and / or Track Design
Being that we've never run a full competition before ( July's entry comp hardly counts ) we will have need for several dedicated judges who can work qualifying and competition rounds. I'd like to have our judges picked in the next week or two so they can help build our course layout. What better way to judge someone's line than to build the line you're judging?
- Someone to help build and manage a street crew to run our guerrilla marketing campaign.
Is anyone else tired of the low spectator turnouts at our Topeka events? In addition to finding a venue closer to home, we need to get back to work on spreading our name. This means cities outside our own! I have the marketing experience to get this started, but I need someone to help manage the day to day and coordinate a group of people to make sure we're known everywhere in the Midwest.
- Anyone with Programming / Graphic design skills who can help work on the websites (I have plans to expand to 4 total – blog, store, forum, and a surprise)
This one is pretty self explanatory. Our websites are growing. I can't build them all myself. Platforms will be phpBB, WordPress, and MagentoGO.
If you think you can help with any of the above or know someone who can, get it touch with me and let's get things moving!
First off I would like to thank ALL the volunteers. If it wasn't for you we wouldn't have had an event.
So, who else had a great time at Rd.2 Adrenaline on Kc-han? From a drivers perspective it was a great track, great people, and a great time. We had drivers from all over (kinda) – Iowa, STL, Wichita and other places I can't think of because my mind is still melted from how rad of an event it was. I suck at words so lets throw up some photos.
For more photos and videos check out the media thread.
One of my personal favorites of the event. From Iowa the Angle Junkies s13 coupe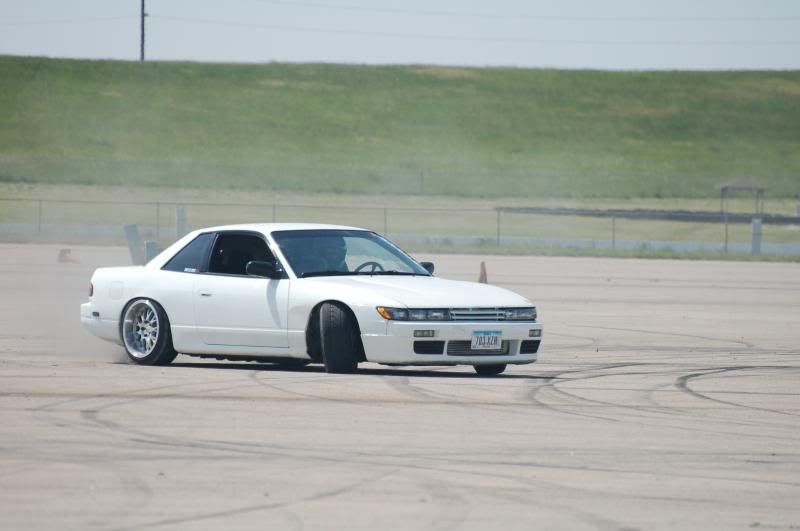 One of the STL natives showing us how it's done in his red s13 hatch.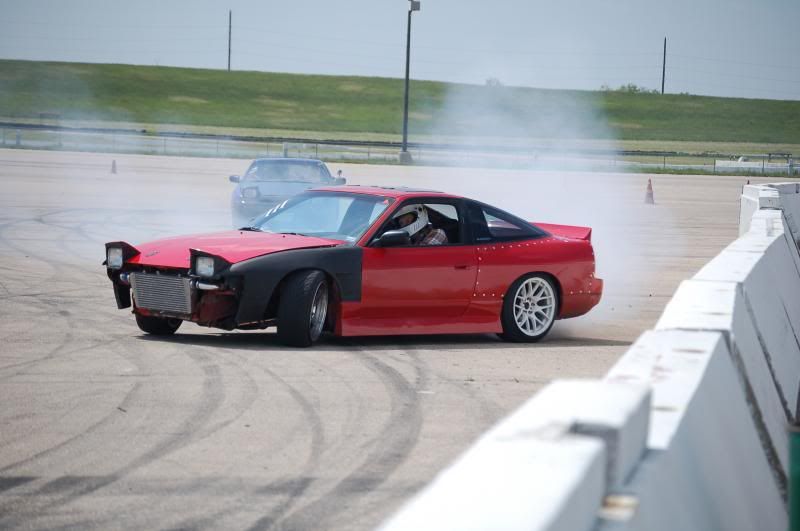 Sadly we did lose a few cars to the wall.
Dustin aka Krazi's s14 in the wall.


Jen's s13 Drift Kitty piloted by Chris Hanley


One of the workers Galen took a few laps in his turbo volvo wagon


Local driver Phil Dark going ham like always in his s14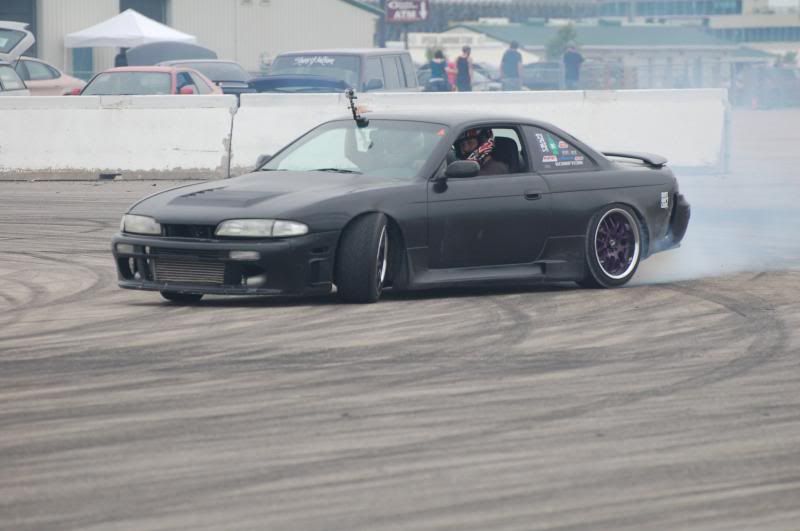 There were a few Miatas on the track. Here is yours truly doing a tandem run with other local driver Rolando Alfaro in his daily driver 350z


CHHOOOO CHHOOOO WE HAVE A TANDEM TRAIN!